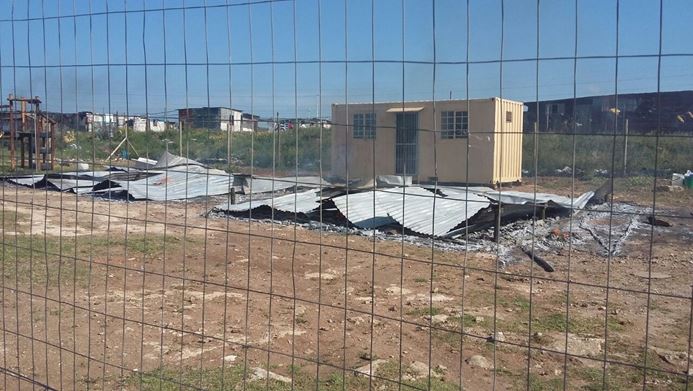 Under The Tree Early Childhood Development Centre was officially opened on 23 November 2016 and burnt down on 30 October 2017 due to an accident.
The beautiful building gone – so many of our dreams gone. How could it happen? In a few minutes all gone.
Would you donate for this project? That would be really great. Here are the bank accounts details:
South African account
Name of account:   UNDER THE TREE
Account no:  9330511849
Type of account: Savings account
BANK: ABSA
Branch code: 632005
References for donations must be: YOUR NAME/UTT
​Dutch account
NL60 INGB 0000 0466 64 t.n.v. Stichting Kinderfonds MAMAS
References for donations must be: YOUR NAME/UTT
Problem statement
50 children who have been stimulated, cared for, played with and provided with 2 meals a day are now sitting at home. In the next paragraph you will read about our immediate plans and then the more long term plan.
Plans from here
Children back at school
We plan to transport the bigger children and educators to our office in Markman till the schools close. They will then be taught and fed as usual.
The home stimulation
The services to these chidren will continue as before. The little ones receive one meal and stimulation session 3 times a week.
Santa Shoebox
Santa Shoebox will be bringing each child a shoebox full of presents on Tuesday 7 November to our office. And the next day the classes will start.
Christmas Holidays
We will close our year's activities with a graduation day! This will happen on the day the schools close for the year.
Erecting a new building
This entails thinking, planning, considering and consulting with the educators about what will be best in an informal settlement where we are not allowed to build a brick building
We are hoping to purchase containers to serve as classrooms
Quote
The following quote has been received from Containe Trust for 2 X 12 X 2.4m containers assebled together.
They convert as follows:
4x larger windows like the one you see above with special burglar proofing
1x door plus security gate
2 whirly birds
Paint outside and inside
Assembled and welded together
If we order by the end of November they will do the conversion in December and the rest on-site in January.
This means we must raise R125 000 in the next month. We don't pay VAT. Then we need equipment. The kitchen is still fully equipped.
Budget
| | |
| --- | --- |
| NEEDED | AMOUNT |
| 1 2xContainers welded | R   125 000 |
| 2 carpets | R       3 000 |
| Equipment Teaching | R     12 000 |
| Outside Porta Potty teachers | R     10 000 |
| Total Needed | R   150 000 |
Conclusion
Will you please consider assisting us in building the centre again. Yes, we want to use containers for safety etc. We hope that we will be able to continue with our services at the beginning of next year. I am sure you all know that we at Under The Tree ECD Centre endeavours  to provide a safe, stimulating, and caring environment for pre-school children.
Our focus is to provide an encouraging educational experience while promoting social, emotional, physical, and cognitive development. We are committed to the children and families we serve, we strive to give parents complete peace of mind, while being seen as a shining example of what a quality childcare center should be.
PARTNER WITH US AND HELP US REBUILD UNDER THE TREE. ECD CENTRE.
Tia Wessels
Director: Social work