"The home of Daphne & Peter has felt like a home away from home."
When I arrived, both Peter & Daphne and everyone from the projects have welcomed me with open arms and cared for me, even now when I have been gone for a while.
As Peter & Daphne say, volunteering will be a life changing experience. It has done exactly that for me. All the children have made a great deal of impact on me.
I was planning to stay only 4 weeks, but ended up staying 10 weeks (note, I'm long term travelling so I had the luxury of being able to do this) and volunteered at several projects which they are involved with.
Family Restoration Services 
With Family Restoration Services I have volunteered at the Tinkertots ECD center in the mornings, assisting the teachers with their daily programme such as reading to the children in English, crafting, games outside, playing, serving lunch, etc. The afternoons where filled with visiting the Thamsanqa houses. From assisting the children with making homework (which is very necessary!), to organising outings like taking each house to the beach (which they only get to do when there are volunteers) and because I had some personal funds available I was able to take two separate groups of kids to the movies and organised an outing for the Tinkertots teachers as well. In addition, Louise and I organised an evening for the teenage girls from the project discussing different aspects and hazards of a teenage life.
Baby shelter Lelethu
After a few weeks, I moved my morning activity to the baby shelter Lelethu, where I worked side by side with the care givers nurturing the precious babies and running errands for the shelter (very useful to have your own rental car, which doesn't have to be expensive!).
One thing that was important to me, before committing to a volunteering spot, was that I didn't want to be in a situation where I would continuously be around the children day and night. Not because I don't adore kids, but to avoid attachment from both their side as mine.
In the end, the attachment is kind of unavoidable when interacting with humans anyway, I've learned that now. But coming home for dinner, a good night rest and a warm hug at Daphne & Peter (and other volunteers/interns) does give a good chance to have some distance from what you've experienced that day and talk about it (if you want). Or just unwind in their gorgeous garden.
Another important factor to me was the costs. Having done research I found that some organisations charge extreme amounts for both accommodation, "guidance" (read: half an hour chats) and transport to the project(s). Some of these organisations, in South Africa and in other countries, are not even legitimate. Orphanage homes with children that are not orphans for example, or they let you work on a project that isn't even necessary but they offer these "volunteering" spots for the financial income only.
This is not the case with HVP and any of the projects they are involved with. HVP is not focused on making profit or gain in some other way. They care for the community and have love for all, and wish nothing but for good and honest people to come and support the great local initiatives. The amount they ask for hosting are merely for covering their cost.
I was also a little bit hesitant because of safety. Almost everybody seems to agree that it is dangerous in South Africa. I'm glad this didn't hold me back! Nothing has happened during all my time there and outside PE and I never felt unsafe. I believe it is important to be mindful of where you are and with whom and to listen to advice from the locals.
Several weeks volunteering might sound like a long time, but I guarantee that the time will fly by. You will probably want to stay longer like I did. At least the first week(s) is needed to familiarize yourself with the country, the project and the people. Then before you know it, you are sadly counting down the days to return home. If you do have enough time, make sure to combine your trip with some sightseeing either after or on the weekends (Daphne & Peter will be able to advise you on this as well). South Africa has some amazing nature sites to offer.
Religious South-Africa
South Africa is also a very religious country. Many are christians and the churches are packed. Don't let this hold you back though if you are not religious. Take the time to also experience this part of the local cultures and visit the different churches in the townships, with warm dancing gospel, and in the city, where it feels like being at a rock concert on a Sunday morning.
I do think it is good to come prepared. Read about the country, watch movies and/or documentaries, learn a few words in Xhosa and Afrikaans, ask questions to Peter & Daphne, the project leaders and/or other volunteers and see if you can prepare specific plans for the project before coming. This will really benefit your experience and your contribution to the projects and the lives of those involved. Perhaps even organise a small fundraising amongst family and friends before (or after) and discuss with the project leaders where the money can be of most benefit.
One might get a feeling of hopelessness though, like I did. How can I make a difference? What could my presence be of benefit? In these moments, just keep reminding yourself that no act of love is ever wasted.
I shall never forget..
One thing I will never forget is that little 9 year old girl who had difficulties reading in English when I first got a chance to sit with her and read. Each time I visited the house she lives in, I pushed her to read with me. Sometimes I would read to her also. And then, during my last visit I asked her to read again. Like the other days, she would be a bit fussy but went to get her book. When she finally started reading to me, she just blew me off my chair. She was doing so incredibly well! The house mom said that she had been practicing ever since my previous visit, both with her sister and at school. She now even volunteers to read to her class. And it was because of me, she said.
I am not a teacher, nor do I have my own children, but that all doesn't matter. You don't have to be perfect or speak perfect English either to motivate someone else to improve, to practice and to grow.
Someone said to me before leaving, this not 'goodbye'.. It is only 'until we meet again'. I sincerely hope this is true and that one day I will have the opportunity to come back. 
Back to a bunch of amazing lovely people, literally going out of their way to make a difference to the lives of the children in their communities."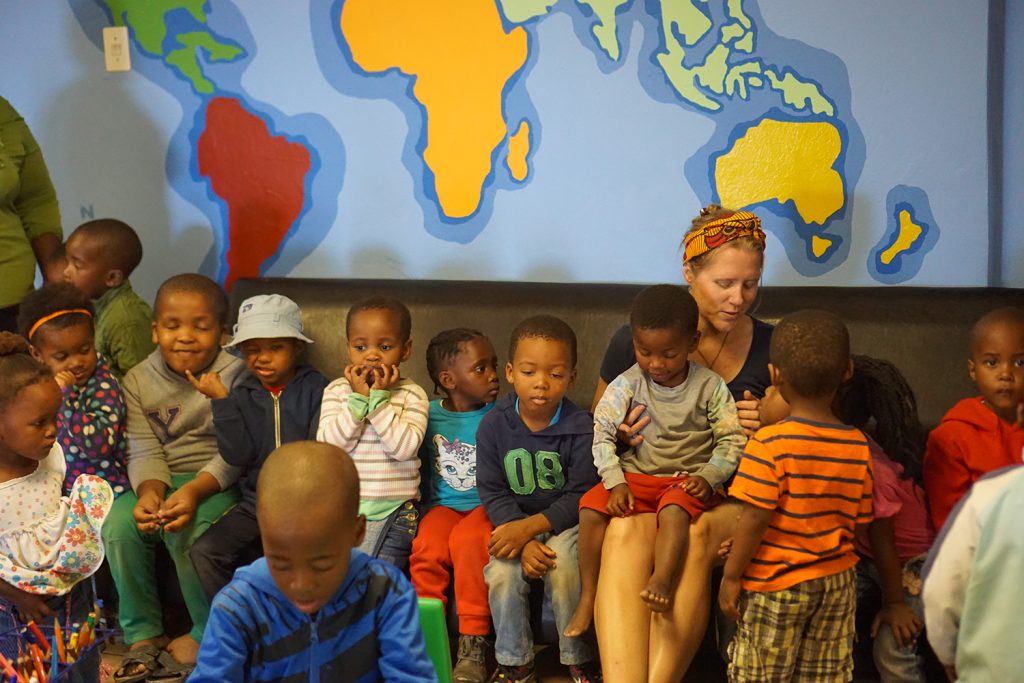 Name: Eline Demunck
Country: Netherlands
Volunteer in: 2017
'No act of love is ever wasted.'